Community Assistance During COVID-19 Quarantine
If you need assistance or know someone who does, please reach out to us at lmtnwainfo@gmail.com as we are working with several local organizations to provide meals and groceries to food insecure and families with ill members. Several initiatives are underway if you'd like to contribute.
NWA Coordinator Sara Christopher is coordinated an effort to supply LMT Police and Fire Co. with BBQ dinner this week.Officer Pell and his fellow officers have been doing a great job frequenting our neighborhoods making sure we don't have to worry about anything during the quarantine.  They also have been doing Bday drive-bys and other wonderful community fun things.  They have been pulling  longer shifts.  I know it's their job, but we would still like to let them know it's greatly appreciated!  If you'd like to contribute to offset the costs, (even $5 would be helpful!) please Venmo @sara-christopher-8 (please write in the notes it's for NW)  or PayPal her at sara@bullseyerecruiting.com
We are collecting nonperishable food donations for Bucks County Opportunity Council, who is then sanitizing and distributing to food pantries across the county.  (Most food pantries are not taking food donations directly, although you can visit BCOC's website to make a monetary donation.). If you'd like to donate food, it can be left in the grey bins at the end of the driveway at 14 Upton Lane, Yardley.  Please no perishable or expired items.
If you need a mask (the cloth ones), or know of someone who does, please email Sara (sara@bullseyerecruiting.com).  She can get one for you complimentary.  The best way to keep safe is to stay home but if you have to venture out, do so with one of these masks. Some protection is better than none.
Check in on your neighbors, especially seniors and immunocompromised!  Leave a note on their door or in their mailbox, and as stated above, please let us know if someone needs meals,  groceries or masks.
Stay Safe and Healthy!
Register Your Video Surveillance Camera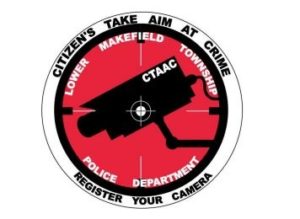 Do you currently utilize private video surveillance at your home or business? If you do, LMT Police would like to hear from you.
If you would like to let the police know that you have video surveillance and allow Officers to contact you should a crime occur in or near where your cameras are installed, please fill out the registration form here.
Click here for a brochure with more information.
Slow Down LMT Signs
Slow Down Lower Makefield signs are available for $5/each at the LMT Tax Collector's Office.
Each sign shows "Slow Down Lower Makefield" on one side and "Support LMT Police" on the other.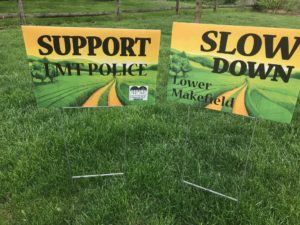 Drug Take Back Bin
A Note from LMT Police
Thank you to the residents of Lower Makefield Township who have taken the time to visit and use the Drug Take Back bin that is located inside the lobby of the Police Headquarters.
As a reminder, there are several things that you MUST NOT DEPOSIT inside the bin.
DO NOT DEPOSIT:
Syringes / needles of any kind.
Liquids or Aerosol cans of any kind.
Loose pills, please place them in a closed container.
The Lobby is under video surveillance 24 hours a day and 7 days a week.
Drop off location – 1100 Edgewood Road, Police Headquarters.
Hours – 8am to 4.30pm – 7 days a week.
For general townwatch information or more information
about starting a Neighborhood Watch in Lower Makefield Township please contact:
Lena Beaven, LMTNWA C0-President
Hillwood Terrace NW Coordinator
LMTNWAinfo@gmail.com
Barbara Bernal, LMTNWA C0-President
Winterfield NW Coordinator
LMTNWAinfo@gmail.com
Officer Mike Pell
Lower Makefield Police Department
MikeP@LMT.org
(215) 493-4055