Register Your Video Surveillance Camera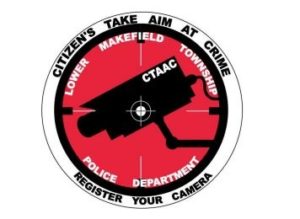 Do you currently utilize private video surveillance at your home or business? If you do, LMT Police would like to hear from you.
If you would like to let the police know that you have video surveillance and allow Officers to contact you should a crime occur in or near where your cameras are installed, please fill out the registration form here.
Click here for a brochure with more information.
School Safety Grant Awarded to LMT
In early November, Congressman Brian Fitzpatrick (PA-08) presented a $60,975 federal grant to Lower Makefield Township for the purposes of bolstering school security, educate students and faculty on school safety, and support law enforcement officers and first responders on school safety. Lower Makefield Township is only one of two municipalities in Pennsylvania that received grant funds from the 2018 COPS School Violence Prevention Program (The City of Erie received the other grant). Congratulations LMT Police and Officer Mike Pell for his work to make this happen!  https://fitzpatrick.house.gov/media-center/press-releases/fitzpatrick-presents-school-safety-grant-lower-makefield
Slow Down LMT Signs
Slow Down Lower Makefield signs are available for $5/each at the LMT Tax Collector's Office.
Each sign shows "Slow Down Lower Makefield" on one side and "Support LMT Police" on the other.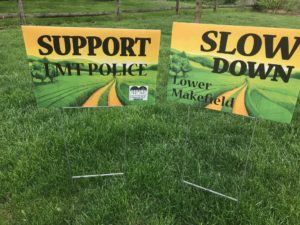 Drug Take Back Bin
A Note from LMT Police
Thank you to the residents of Lower Makefield Township who have taken the time to visit and use the Drug Take Back bin that is located inside the lobby of the Police Headquarters.
As a reminder, there are several things that you MUST NOT DEPOSIT inside the bin.
DO NOT DEPOSIT:
Syringes / needles of any kind.
Liquids or Aerosol cans of any kind.
Loose pills, please place them in a closed container.
The Lobby is under video surveillance 24 hours a day and 7 days a week.
Drop off location – 1100 Edgewood Road, Police Headquarters.
Hours – 8am to 4.30pm – 7 days a week.
For general townwatch information or more information
about starting a Neighborhood Watch in Lower Makefield Township please contact:
Lena Beaven, LMTNWA C0-President
Hillwood Terrace NW Coordinator
LMTNWAinfo@gmail.com
Barbara Bernal, LMTNWA C0-President
Winterfield NW Coordinator
LMTNWAinfo@gmail.com
Officer Mike Pell
Lower Makefield Police Department
MikeP@LMT.org
(215) 493-4055