Substance Use Resources
Bucks County Drug & Alcohol Commission is the SCA (single county authority) for substance use issues and is a valuable resource for information and services for prevention, treatment and recovery.  They are available 8:30-4:30 Mon-Fri.  Phone number: (215) 444-2700
Register Your Video Surveillance Camera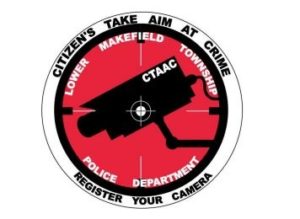 Do you currently utilize private video surveillance at your home or business? If you do, LMT Police would like to hear from you.
If you would like to let the police know that you have video surveillance and allow Officers to contact you should a crime occur in or near where your cameras are installed, please fill out the registration form here.
Click here for a brochure with more information.
Slow Down LMT Signs
Slow Down Lower Makefield signs are available for $5/each at the LMT Tax Collector's Office.
Each sign shows "Slow Down Lower Makefield" on one side and "Support LMT Police" on the other.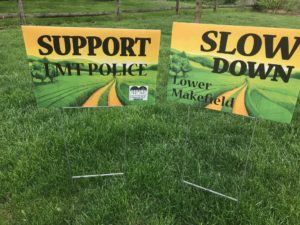 Drug Take Back Bin
A Note from LMT Police
Thank you to the residents of Lower Makefield Township who have taken the time to visit and use the Drug Take Back bin that is located inside the lobby of the Police Headquarters.
As a reminder, there are several things that you MUST NOT DEPOSIT inside the bin.
DO NOT DEPOSIT:
Syringes / needles of any kind.
Liquids or Aerosol cans of any kind.
Loose pills, please place them in a closed container.
The Lobby is under video surveillance 24 hours a day and 7 days a week.
Drop off location – 1100 Edgewood Road, Police Headquarters.
Hours – 8am to 4.30pm – 7 days a week.
For general townwatch information or more information
about starting a Neighborhood Watch in Lower Makefield Township please contact:
Carol Mahoney, LMTNWA President
[email protected]
Officer Mike Pell
Lower Makefield Police Department
[email protected]
(215) 493-4055